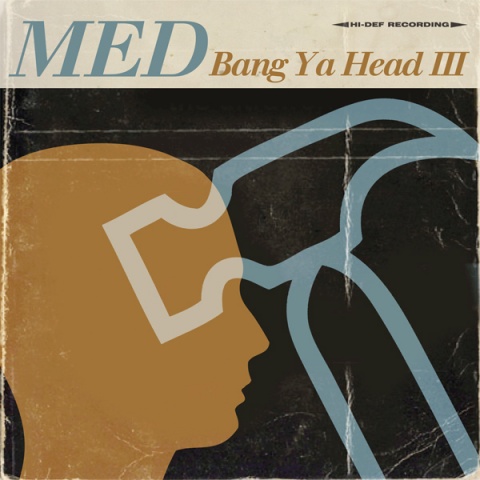 Wer MED kennt, der weiss das er da Qualität bekommt. So auch diesmal bei seinem neuem kostenlosen Mixtape aus der Bang Ya Head Reihe. Der dritte Teil überzeugt wieder mit guten Rhymes und Beats von Madlib, sowohl als auch die typischen Features aus dem Hause Stones Throw.
West coast MC Medaphoar (MED) has blessed us with his newest mixtape, "BangYaHead III."
This Oxnard native with a reputation for collaborating with some music luminaries such as Just Blaze, Oh No, and the amazing J.Dilla, produced his newest mixtape with an impressive line-up of talented performers, producers, MC, and musicians. From Oxnard fam, Madlib and Declaime to LMNO and Georgia Anne Muldrow, DJ Babu, Pok, Soul Professa, J Rocc, the list goes on and on. Mixed by DJ Romes with a special outro live on drums by Daru Jones, after one listen, you'll know, it's definitely something to Bang Ya Head to.
TRACKLIST:
1) Intro -prod by JRocc

2) Advice – LMD prod by Madlib

3)Misunderstood -MED prod by Madlib

4) Candlelight -MED feat/prod by Georgia Anne Muldrow

4) 50,000 Watts -MED prod by Soul Professa

5) Salute – J Rocc/MED feat WildChild & Baby Boogalu

6) Fall Back – Fred feat Med/Pok prod by FRED

7) R.E.M -Epsilon Project Feat MED prod by Oddisee

8 ) West Iz Back -MED prod by Khalil

9) Saga Cont. -Babu feat MED prod by Babu

10) O.U.T -Matt feat MED prod by Matt

11) Listen -Descry feat MED prod by Descry

12) Outro Prod by JRocc feat Daru Jones on the drums
DOWNLOAD: MED – Bang Ya Head III (Mixtape)