Archive for Oktober, 2010
100% exclusive mix by Orgasmic & Teki Latex a.k.a the Sound Pellegrino Thermal Team.
Tracklist hier.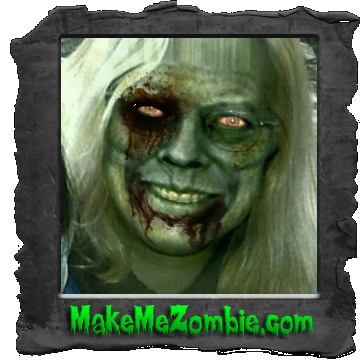 Ein lustiges Gadget gibt es hier. Pünktlich zu Halloween kann man sich jetzt auch virtuell eine Verkleidung zulegen. Auf Make me Zombie kann man ein Foto von sich oder Freunden hochladen und dieses wird dann auf die schönste Untotenmanier bearbeitet. Nice.
Wieder ein neuer Essential Mix, diesmal mit Minus First Lady Magda, welche wieder mal ihr können an den Decks unter Beweis stellt:
The decks are cleared for another Essential Mix with Magda – Berlin's first lady of techno.
Magda is a Polish born DJ based in Berlin. She also spent time in Detroit in the 1990′s, where she DJ'd with the likes of Richie Hawtin and Claude Young. She has just released her debut album on Minus called 'From A Fallen Page'.
Tracklist:
Pete Tong Introduction
Magda — Dr Secret Tooth – Minus
Plastikman — Fuk – Plus 8
Magda — Your Love Attack – Minus
Magda Essential Mix
Andy Vaz — Inscrutable Insects – Vazbit
Murr — Sunday Morning – New Kanada
Goldfish und der Dulz — Pool – Playhouse
Beaner — Little Helper 4-3 – Little Helpers
Thomas Brinkmann — Drops – Maxernst
Soulphiction — Cheerleader (Poets Of D-Ism Mix) – Playhouse
Dinky — Jack – Horizontal
Putsch '79 — Othello – Clone Records
JPLS — Voxcycle A – Minus
X District — Color Correction – Playhouse
Snuff Crew — Lovefreak – Playhouse
Chloé — Distant (Magda Remix) – Kill The DJ
Troy Pierce — A Slap In The Space – Unreleased
The Other People Place — Running From Love – Warp
Chris Carrier — Cancan (Dub Mix) – Robsoul
Rework — Love Love Love (Chloe Remix) – Playhouse
Jason Emsley — Unknown Title – White Label
Magda — Distance To Nowhere – Minus
Fever Ray — Seven (Marcell Dettmann Remix) – Rabid
Robag Wruhme — Blech Beule – Circus Company
Maayan Nidam — The Road To Recovery – Freak N' Chic
Rhythm Plate — Dirty (Bleep District Off Road Dub) – Kolour Recordings
Cellule Eat — Tajin 3000 – Minibar
LoSoul — Late Chick – Playhouse
Anthony Shakir — Unknown Title – White Label
The Skull — Enter The Skull – Kindisch
Milton Bradley — Don't Phonk – Do Not Resist The Beat!
Maetrik — Purr Baby – Bedrock
The Unknown DJ — Basstronic – Techno Kut
Soylent Green — Brut – Playhouse
Christian Burkhardt — Boomerang – Deep Vibes
Dplay — Südseestraße – Mild Pitch
Reade Truth — Breathe Into Light – Planet E
Captain Comatose — Up In Flames (Glove Mix) – Playhouse
Booka Shade — Vertigo – Get Physical
Frozen Border — 21 – Frozen Border
Mr C — Dark Moon – Wagon Repair
Ion Ludwig — I Wont Listen – Motivbank
Kotai/Bader — So Straight – Elektro Music Department
Der neue Track vom Kid Cudi rockt derbe und im Feature gibt Cee-Lo seinen Part zum besten. Track ist vom neuen Cudi Album Man on the Moon II: The Legend of Mr. Rager welches am 9. November erscheint und hier zu bestellen ist.
[soundcloud url="http://api.soundcloud.com/tracks/6522195″]