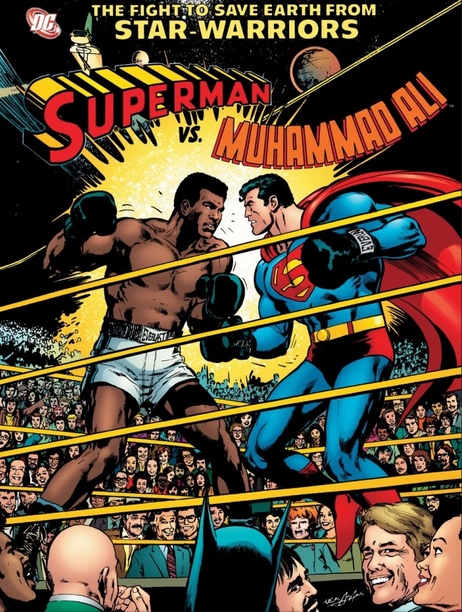 Ich bin ja eigentlich nicht so der riesengroße Comic Fan aber das ein oder andere Cover flasht mich dann doch schonmal weg und animiert mich zu lesen. Wie dieses Cover hier, welches ursprünglich aus dem Jahre 1978 stammt und auf dem Cover Superman und Muhammad Ali als Kontrahenten abbildet. Wer genau drauf auchtet, sieht auch noch Batman's Kopf im Vordergrund rausblitzen. Das sind nunmal die Comics, fiktiv bis zum "get no" aber ich finde gerade das sehr geil. Diese Ausgabe wurde jetzt nochmal neu aufgelegt und ein Reporter von NPR hat folgendes dazu zu sagen:
No sooner does reporter Clark Kent stumble across Muhammad Ali shooting hoops in Metropolis' "inner city ghetto" than an despotic alien named Rat'lar appears to talk intergalatic trash. Specifically, Rat'lar is Emperor of the warlike Scrubb race, and he challenges earth's champion to fisticuffs. If said Earth champion loses, Earth will be destroyed. If said champion wins, Earth will be spared.

The question: Who will be Earth's champion? Superman claims the right, but Ali points out — quite rightly — that Superman is a Kryptonian, not an Earthman. Rat'lar isn't having any of this Terran shilly-shallying — he's got minions to yell at, and that fist of his doesn't shake itself, after all — so he orders the two men to decide the issue by duking it out in 24 hours' time.
Wer mehr erfahren möchte, sollte hier weiterlesen.